From the desk of Bob Jones:
FREAK DEAL
November 16, 2011
Hi All,
Freak hands are always fun when they come up and Tuesday at Jourdan's produced a beauty: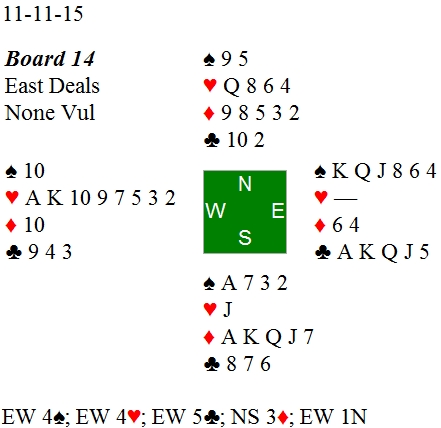 East picked up a fabulous hand and opened 1S on his way to the party. South overcalled 2D (who cares what these peasants do when I have hand like this) and West bids 4H (What the hell is going on here? This is terrible. I never meant for this to happen.).
North could have bid 5D and inflicted even more misery on East but mercifully passed. What now says East. I didn't open this hand to put it down as dummy for 4H. With just about game in hand in spades, East bid 4S, realizing the party is over. But would West pass 4S? West should think that partner would always pass 4H unless they were void in hearts and their suit isn't quite good enough to insist on it at the 5-level. West should pass and figure it just wasn't his day.
Lo and behold, 4S was cold and easy to play. South leads a high diamond, sees the dummy, cashes the Ace of spades and then tries to cash more diamonds. East runs out of diamonds just in time and claims the rest. Making 4S. 4H was also cold, but harder to play. West has to negotiate an entry back to his hand to draw the last trump when hearts break badly. Not too much of a strain. "Well," says West, proud of his pass, "we tested the brakes and they're working fine."
Let's revisit North. It is a terrible hand and any bid at a high level is risky, but it is almost always right to raise partner with 5-card support. 5D is only down 2 and is an excellent save against 4H or 4S. North-South have a great fit. East-West don't. The great fit levels this playing field.
Bob