Welcome to Jourdan's Bridge Club!
Going forward — Wednesday evening game begins at 630 PM!
Alert! Wednesday evening Barometer game moved to the 26th!
Extra Points Sundays and Extra Points Wednesday Evenings!
Quiet and Relaxed Evenings of Duplicate Bridge!
Monday and Wednesday at 7PM!
Monday evening features a no zeroes jackpot game starting 7PM.
Come Wednesday night for fun – enjoy your bridge starting 630PM.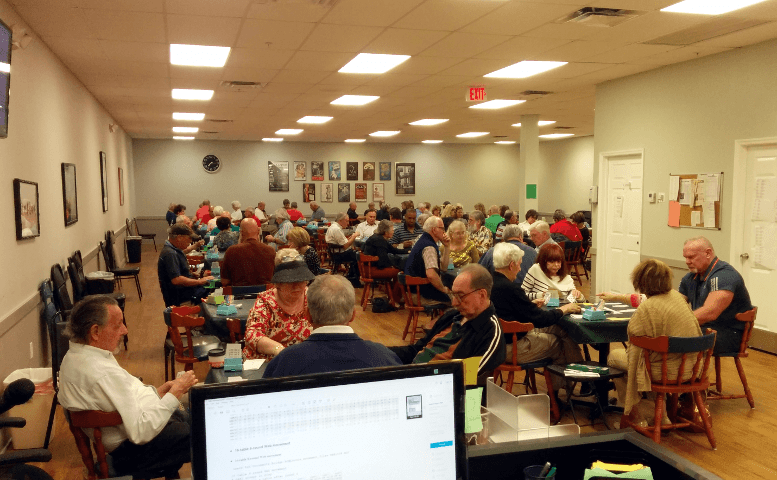 Jourdan's – a Top 5 club!
Group Lessons at Jourdan's – New Schedule for 2016–17 Season!
And a Gentle Introduction to Duplicate Bridge!
Suspect In Morton's Fork Coup Still At Large!
The widely circulated Goren Bridge column is written by Bob Jones. The Sun-Sentinel carries the column locally. You will see Bob around the club from time to time. Introduce yourself and pick his brain!
Enjoy these older columns and try the weekly quizzes!
Note that early columns omit Bob from the byline.
Links to useful Bridge websites: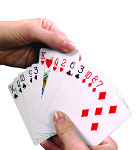 We are here!
Jourdan's is one of the largest and best attended clubs in the ACBL.
Besides our daily schedule of Duplicate and Rubber Bridge games, we also have one of the largest teaching schedules anywhere.
Our premises consist of nearly 6,000 sq.ft. of well-lit air-conditioned comfort.
All of our activities are conducted by experts in their field whether it's a novice game or an in-Club Sectional.
All game scores are posted on this website daily. Please feel free to browse the table of recent results on this page.
This web site is refreshed regularly to bring new content, which may render shortcuts or aliases inoperative. If you use a shortcut or alias -- please re-establish it when it fails to function.
Alert! Best to use www.jourdansbridge.com for successful access.
Copyright © 2011 Jourdan's Bridge Club. All Rights Reserved.